by Scott Happ
19 November, 2019
Here we go, the last segment on the importance of automating your secondary marketing functions! When combined in any sequence, all eight reasons can provide lenders with improved processes, the ability to evalute lending strategies and a significant competitive advantage. I invite you to continue reading through this last segment to fully understand the value and contribution to success when applying these principles to your secondary marketing operation. If you have not yet had an opportunity to read my previous posts on the subject, I encourage you to start with Automating the Secondary Marketing Function - Part I.
In this final blog post in the series, I unpack the significance of an approved vendor community, the benefits of mandatory delivery and how data driven insight leads to better strategy evaluation and management.
Let's start our final descent with the value-add of third-party providers.
Immediately connect with a vetted, third-party vendor network
The digital mortgage movement has driven the proliferation of specialized, point solutions that improve the efficiency of loan officers and deliver greater transparency to consumers. Because price and eligibility data are vital to the user engagement process embedded in these applications, a lender's product eligibility and pricing system must connect seamlessly with third-party vendors. Demand that your secondary marketing system provider automatically connect price data and lock desk functionality to a broad network of third-party applications.
Boost your bottom line by moving to mandatory delivery
Compared to best efforts, selling loans for mandatory delivery provides a meaningful price advantage. Of course, the potential reward comes with risk. Lenders contemplating selling mandatory should carefully consider the systems and personnel required to manage this execution strategy. Risks stemming from a mandatory execution strategy are generally measured using a risk management system and hedged through the sale of TBA securities or forward agency commitments. Hedge program effectiveness is highly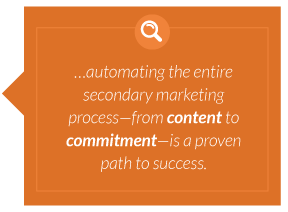 dependent on predictions about which loans will close and the rate at which pipeline data is refreshed. Investing in systems that automate risk management can yield a mandatory execution strategy that contributes materially to the bottom line.
Gain business intelligence with data and analytics
Like virtually all financial industries, the mortgage lending business is quickly adopting analytical tools to measure performance and gauge competitiveness. This trend is driven by several high quality data visualization platforms, system-provider efforts to improve data access for customers, and recognition that data science contributes to the bottom line. To optimize secondary marketing operations, lenders must have real-time information on locks, change requests, lock extensions, re-locks, and concessions. They should also invest in tools to analyze activity at the product, branch, or loan officer level. To calibrate pricing, lenders should ideally have access to competitive analytics that can be run for specific loan scenarios. Evaluating operational and competitive data is a strategic imperative, and one that requires an automated, on-demand business intelligence solution.
Secondary marketing processes have become increasingly complex and resource intensive, prompting lenders to consider necessary changes to support this vital function. From content to commitment, secondary marketing automation will significantly impact your operational processes and help you to stay ahead of unexpected market fluctuations. As pressure grows to lower costs, improve margins, raise quality, reduce risk and sharpen decision making, automating the entire secondary marketing process is a proven path to success.
I invite you to download, view and share the Eight Reasons to Automate Your Secondary Marketing Function white paper in its entirety.
BACK