11 February, 2020
As market trends and compliance regulations continue to ebb and flow, having a strong counterparty oversight program in place is key to maintaining productive, healthy, and cost-effective business relationships. Investors historically migrate in and out of third-party originations based on current production and profitability, with consideration relevant to credit and regulatory constraints. Mastering the benefits of third-party originator (TPO) lending requires best practices that are strategically executed and managed concurrently.
While it is important to be mindful of best practices throughout the year, to avoid increased exposure to risk and/or proliferation of costs, we have compiled a short list of TPO practices you want to avoid.
#1 - Ineffective Policy
Develop and implement a policy that incorporates corporate governance and audits that will meet or exceed regulatory requirements. Refrain from using cookie-cutter templates and leverage your policy process to address notable considerations including how you keep track of renewal due diligence, especially as your partner database grows? Further, how do you track which TPOs are adhering to your guidelines on renewal documentation requests, and which are not? How and when should you solicit and incorporate TPO feedback for process improvement?
An effective policy, at the very minimum, should include the following fundamentals:
TPO performance requirements, referencing qualitative and quantitative variables.
Documentation guidelines for TPO approval, renewal,
and change of status.
Renewal time frames and objectives. Will renewals process annually or on each anniversary?
Regulatory compliance responsibilities, requirements,
and reviews.
Internal TPO guidelines and expectations.
#2 - Reactive Renewals
Identification of TPO partners that are due for annual renewal must be a proactive process.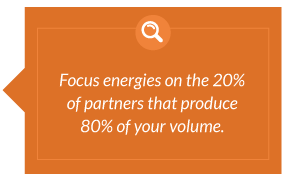 Begin your review analysis early and identify the upcoming review queue well in advance of the set renewal date. It is important to be forward looking and identify TPO partners that are candidates for renewal, at least 45 days ahead of schedule. This provides the opportunity to evaluate client suitability and impact for renewal, as well as feedback from internal stakeholders, It also provides the opportunity to develop a strategic plan for evolving the relationship in the forthcoming year.
#3 - Candidates for Termination
One of the best things you can do for your business is terminate non-performing or at risk TPO partners. Once you have identified the group of partners that have not met benchmarks for loan quantity, quality, or other criteria defined in your policy, you should terminate these relationships instead of requesting renewal documents. This eliminates the expense of conducting the renewal process and eliminates costs associated with carrying a non-producing partner. Maintaining a strategic approach to termination also allows your team to focus energies on the 20% of your partners that produce 80% of your volume.
#4 - Lack of Communication & Intent
Once you have identified the TPO partners selected for renewal, early communication with the TPO is a necessity. Be sure to include an explanation of the renewal purpose, the corresponding process and all expected requirements. This is also the perfect opportunity to market the benefits of working with your institution, highlight forthcoming product innovation, and discuss projected regulatory impacts for the upcoming year. Remember to allow plenty of time for your partners to compliantly, and correctly, respond!

By optimizing third-party relationships, an organization can eliminate unnecessary expenses, inefficiencies, and risks,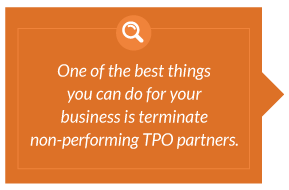 The regulatory landscape continues to change and managing your TPO business channel should necessitate a keen capacity to produce relationships that go beyond compliance, and to also drive organizational performance that increases profitability and maximizes partnership loyalty.
Optimal Blue offers a nimble and industry proven technical solution to help ensure your organization outpaces the competition. Visit the Optimal Blue website for more information or to request a consultation on how the Counterparty Oversight Solution can assist your organization with efficiently and securely purchasing loans from TPOs with increased trust and confidence.
BACK