by Guest Contributor - SimpleNexus
20 July, 2020
Published July 20, 2020
Consider the number of mortgage technology vendors a typical lender utilizes in their technology stack whenever they originate a loan. A conservative estimate might be a dozen or so different partners, though it is not uncommon for this number to be as high as twenty. One might think "the more technology you deploy, the more efficient the lending process." Is there any truth to that?
No matter how many technology solutions a lender relies upon, they face the difficult task of managing these tools in the most high-yielding way. Any increase in efficiency that a lender expects to gain can be negated if the use of any particular technology solution requires additional time or effort to function properly with any of the other systems that are being utilized. As more lenders begin to recognize the negative impact of a siloed structure on overall productivity, there has been a significant increase in the search for mortgage technology solutions that integrate seamlessly with one another.
A prime example of open technology and seamless collaboration across mortgage technology vendors is displayed by the continuous innovations created by Optimal blue and SimpleNexus. Through turnkey integrations that fully leverage the strengths of both platforms, a new capability was born to enable mortgage locking directly from a mobile device.
Let's explore the significance of mobile functionality and a few ways that these tools can impact a lender's efficiency as they manage high volumes in an ever-evolving market.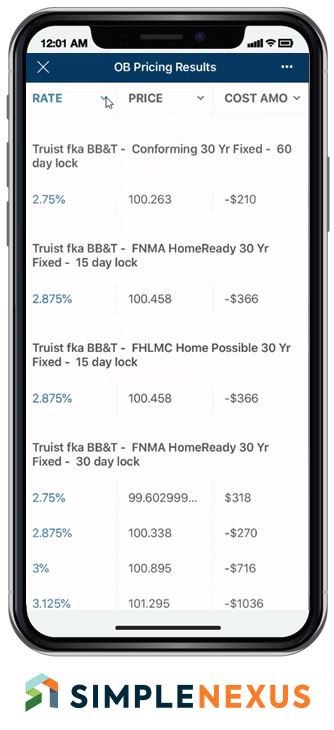 ON-THE-GO PRODUCTIVITY

The ability to quickly search products, quote pricing, and lock in rates at any time—from anywhere—provides the speed and workflow efficiencies that lender's need as they manage borrower demands and high volume. The turnkey integration between Optimal Blue and SimpleNexus brings these capabilities to any mobile device, enabling loan officers to be more efficient at the point of need and significantly increase productivity to ultimately win more business and close more deals.

INCREASED BORROWER SATISFACTION
In a fluctuating market, it is no surprise that pricing can change with very little to no advance warning and borrowers have come to expect responsiveness at a moments notice. This advanced integration enables lenders to be more competitive and confidently deliver timely and accurate rates on the spot.

EASE OF USE
The bi-directional, real-time data flow between Optimal Blue, SimpleNexus, and the lender's loan origination system (LOS) streamlines all steps throughout the lock request. Manual data entry is minimized and originators can quickly advance to the results page whenever possible. This approach is designed to be intuitive and helps to quickly progress the loan forward.

So, is there any truth in the concept that with more technology comes greater efficiency? The key factor to consider is whether or not that technology works in unison. In those conditions, the answer is YES! There is significant value in implementing cross-platform integrations to automate a lender's mortgage technology stack which can produce immediate returns for both an institution and borrowers alike.

To learn more about mobile rate locking capabilities, click here.
BACK